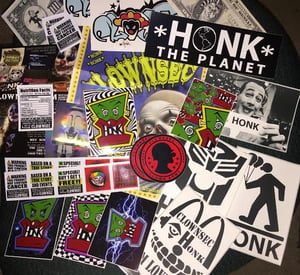 $

15.00 - On Sale
Get all the goods here!
Currently Includes:
1 x Honk the planet bumper sticker
3 x hologram clowns
5 x random honkenstein heads
2 x HONK Funny Money!
2 x Clownsec Graffiti Bumper Sticker
2 x pack of 5 funny labels
4 x Random thermal prints (Pee-Wee, Transformer etc)
2 x Clown Army Badge Stickers
1 x Clownsec Nutritional Facts
and some clownsec fliers and extra stickers and junk!
NOTE: Shipping overseas is overpriced so I have to charge 15$ - Be sure to order a lot of stuff to make it worthwhile!