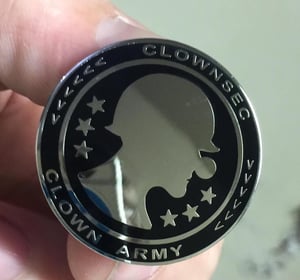 $

10.00
Mirror Finish Silver Plated Clownsec Badge Lapel Pin Tie Tack. About the size of a US half dollar and gaps filled with hard black enamel. Limited Edition only 100 made!
*Some Free Random Stickers and Balloons with purchase
Click Here To Watch How The Badges Were Made!
NOTE: Shipping overseas is overpriced so I have to charge 15$ - Be sure to order a lot of stuff to make it worthwhile!